Sometimes it happens that sweet and generous friends award me, for whatever crazy idea they have that my blog is nice enough to receive them. Now it was
Mrs. B.
who did it!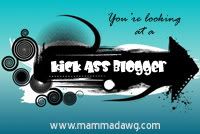 She, who's a very fun friend with a super-creative mind, sent me this cool award: I feel honored for getting it! :o)
Now, following the
award creator's
rules, I should pick 5 bloggy friends to pass it on. And only to respect the rules, I'll do it, because actually as I always say, everyone in my blogroll is a friend to whom I'd love to spread awards, because each of them means a lot to me. But let's go...
If you feel like it, pass it on too! :)